The RF4 stands out from the other robots for its gripping module specifically designed to grip a full board. The care unit may handle up to four cheeses simultaneously.
The small dimensions and its flexible programming make this robot suitable to cellars that already exists.
Care
Brushes and plate can be removed without the use of special tools.
Large choice of brushes available.
Treatment controls can be viewed and accessed directly from the dialogue screen.
Care unit opens for easy access to brushes and trays.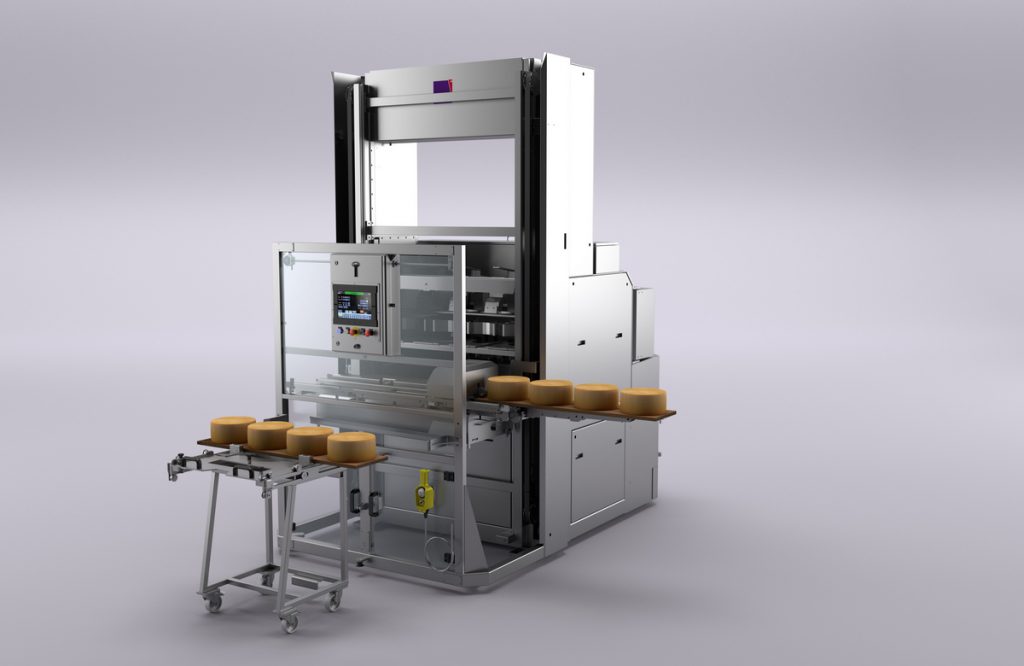 Grab module
Boards handled using a new, robust grip system.
Strong plastic lift and table runners, limiting wear and reducing maintenance costs.
Automatic lubrification system for elevator rails.
Movement of all moving parts carried out using maintenance-free, non-stretch belts.
The boards can be picked up both on tubular shelves and racks.
Dialogue screen
Easy to programme using two 12" colour screens located at the front and/or at the back of the robot and high-performance help system.
Up to 10 sets of treatment settings
Up to 10 types of cheese
Up to 50 types of corridor
Up to 50 work sectors
independently programmable
Automatic settings adjustment based on the type of cheese and the type of corridor.
Access control system for the different settings and parameters.
Logging of alarm monitoring.
Guide and movement system
Contactless guide system : the machine moves along an aisle, automatically correcting its course.
Motorised direction controls : handling is made extremely simple (turning angle of over 180°).
Very easy manual movement using a remote control at the front and/or at the back of the robot.
Construction
The loading module is fixed on the barrier. The brack-ets are retractable. The system can be used for shelv-ing, cheese removal or board change.
Hygienic : care unit with smooth welding, easily accessible. The sloping surface enables optimum run-off of smear liquid and rinsing water.
Large-capacity brine and smear liquid collection tanks.
Strong, rugged construction.
Single-block chassis made entirely out of mechanically welded stainless steel 1.4301.
---
Presentation film
---
Photo gallery