The BR110 is a semi-automatic machine with a rotating plate for producing brochettes.
Depending on the required workload and rate, the 110 cm diameter plate provides sufficient space for up to 4 operators and a rate of 30 brochettes per minute.
Compatible with several types of skewer and ingredient; the machine configuration can be modified quickly with no technical intervention required.
Overall design
Particular care has been taken to make the machine easy to use, clean, and maintain.
There are as few horizontal surfaces as possible to mitigate the risk of standing water.
The tubular frame, made from stainless steel throughout, is sturdy and stable. It is fitted with 4 castors, including 2 swivel castors with brakes.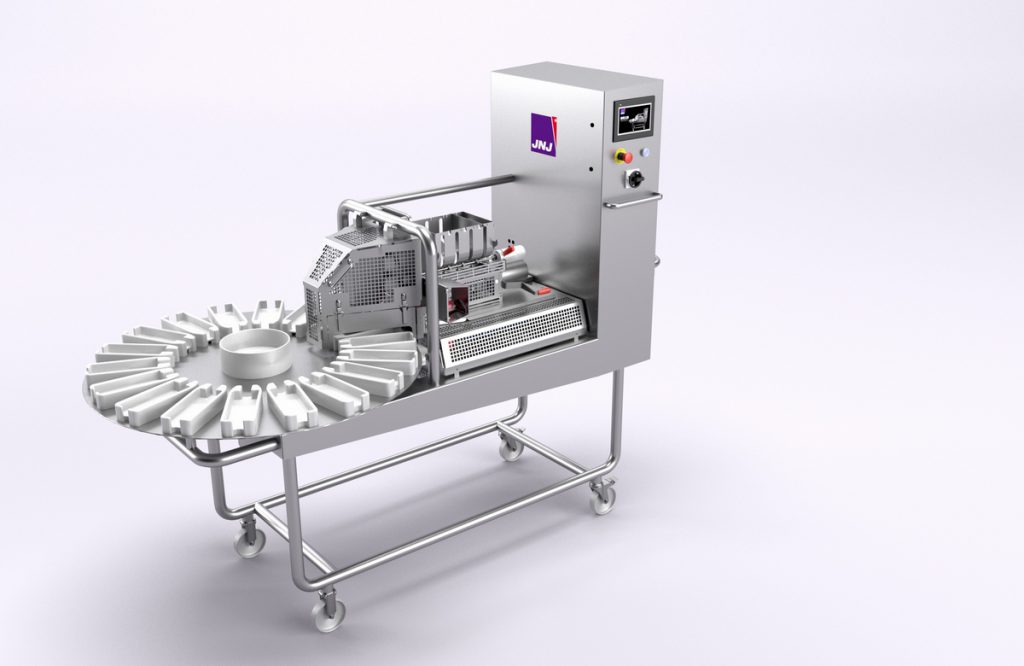 User interface
The graphic user interface has a 7-inch colour touch screen for clear, efficient operation of the machine.
Functionalities are accessed via several levels of user rights, depending on user accreditation.
Production rates can be controlled by means of contactless gestures detected by optical sensors located on the side of the machine.
Product recipes and tools can be configured to match your production requirements.
Rotating plate
The design of the plate allows optimum surface clea-ning using a high-pressure jet. The 18 sliders ar-ranged round the machine enable swift removal of all accessories.
The central bowl can be used to hold small, additional ingredients to be skewered, such as bell peppers and tomatoes.
Tooling & cannon
An automatic verification system controls the proper alignment of the equipment. The system does not start if any inconsistency is detected.
The compact design of the mechanism facilitates cleaning around the components and provides quick access to mechanical settings.
The distributor features an automatic unclogging system: this results in far fewer disruptions due to defective skewers.
Each loader is specifically tailored to a certain type of skewer. Loaders can be changed quickly, with no tools required.
Cartridges for gun shaped skewers can be prepared in advance and inserted alternatively in the loader during production. This feature avoids downtime while skewers are reloaded.
Dies
The made-to-measure dies for your product selection are machined using EC 1935/2004 compliant synthetic materials (EU food contact regulation).
The dies are shaped so as to have no sharp angles, preventing the product from building up in the corners, ensuring seamless production, and minimising downtime.
The dies can easily be cleaned in an industrial dishwasher.
---
Photo gallery